Artificial Grass Edgewater Suppliers & Installers
0426046485
Are you looking for Artificial Grass in Edgewater then you have come to the right place WA Turf Guru's professional Artificial Grass local business offering great products and services for you.wa turf gurus are artificial grass specialist company in WA.

By far our one of the most popular Artificial Grass in Edgewater  Denmark spring.Blades of plush green grass on top with stunning sun-kissed strands of browner grass underneath gives this beautiful turf a super realistic look.
This grass was developed to combat the harsh climate of Edgewater and have a natural spring appearance with a thick and plush texture that's soft to touch.Suitable for both small and large areas our Denmark Spring turf will look great in both full sun and shaded areas.With its C-shaped blades and low sheen, this grass looks fantastic next to pavement and limestone and will be a welcome addition to any front or backyard.
Check out our full range of Artificial grass Perth
REDUCE YOUR WATERING COSTS BY INSTALLING ARTIFICIAL GRASS EDGEWATER
Over a few years, the Artificial Grass will pay for its self. As a homeowner .you instantly start to reduce your water bills and free up all of that time from mowing, fertilizing and weeding your lawn. Our synthetic lawn is now more affordable than ever.
So wherever you're located in  Edgewater give us a call today for a great price on your new range of Artificial Lawn.
Any earthworks required? – We can arrange that for you too, bobcat, depending on access we will quote you on the cheaper option
Best Quality Artificial lawn Perth Artificial lawn great colour combination of Blue & Green
This project is a great example of well design backyard in Perth. colours choice just amazing from granite stone pool caping to deep sea blue pool create a perfect flow of earth like Colour. not to mention the great functionality & low maintenance. of course to complement to all is our Swan Valley Buffalo Artificial Grass.
Another Great project of artificial grass installation in Perth Ellenbrook For Derek & Family.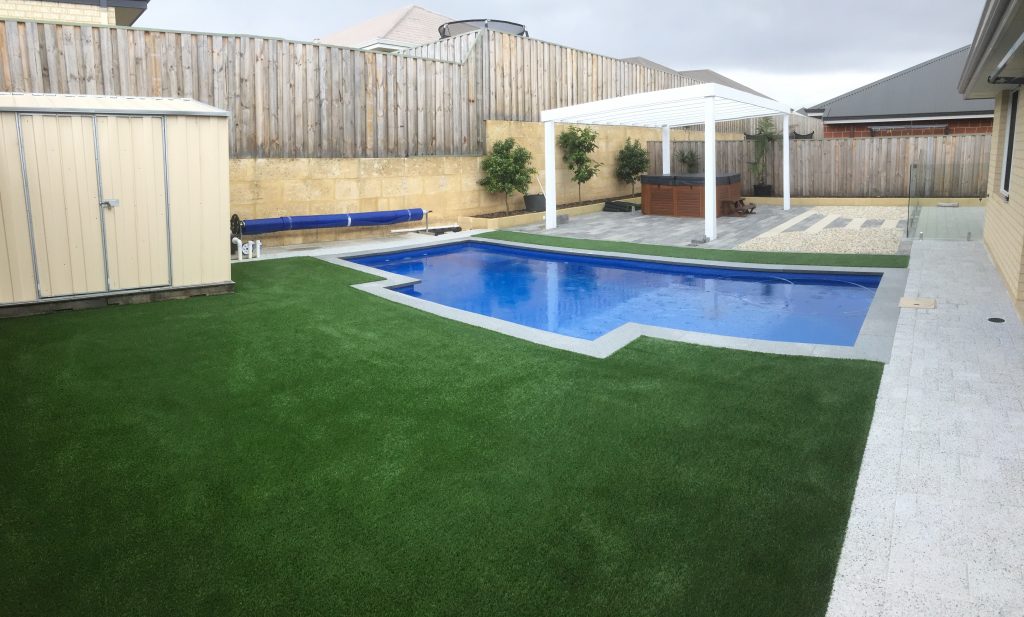 Popular Posts
One of the best features, synthetic Grass is that it does not require the care and maintenance of a natural grass lawn. You never need to fertilize, mow, or waste huge amounts of water to have stunning green grass outdoors at home. However, it does not mean...
read more