This is  the most frequently asked questions is "How Much Does Artificial Grass Cost to Install in Perth?"OR what is Artificial Grass Cost: Perth Synthetic Turf Installation Prices & Artificial grass cost per square metre installed  These are probably our most popular questions we get asked every day to day.
Due to popular demand, we thought it would be a good idea to address this question here in full detail:
Over the time the synthetic grass industry has grown very rapidly. There is a great number of companies are offering same services makes its hard to choose the right one for your needs.So there is few factors need to be considered when to buy synthetic lawn we will explain. off course, these factor effect the synthetic grass prices Perth.
For this exercise, let's assume we are working with a tired front lawn that is looking to be replaced with beautiful New Synthetic Turf. (Please Note: All figures discussed in this example are based on Perth Western Australia)
Here we go……….
There are 3  main costs that effect pricing
 1, Artificial grass quality, Materials ( Road Base, blue metal dust, Infill, garden edging, etc.)
 2, Installation services
 4, overhead cost running cost 
Artificial grass product pricing Depending on few factors
Synthetic lawn type
There are many different styles of synthetic lawn to choose….from pet turf, to putting greens, to athletic turf, to landscaping turf(most popular). The landscaping turf can have thick blades, thin blades, tall blades, short blades, brown thatching(to resemble dead grass) to green thatching, you name it, there is a perfect selection with your name on it.
Generally, you will find there is cheaper Artificial grass product use low quality and use less material low pile height lower, detx and lower density and cheap baking system.
On the other hand, superior synthetic lawn products use the higher quality raw material. Of course, the price also depends on the country of origin.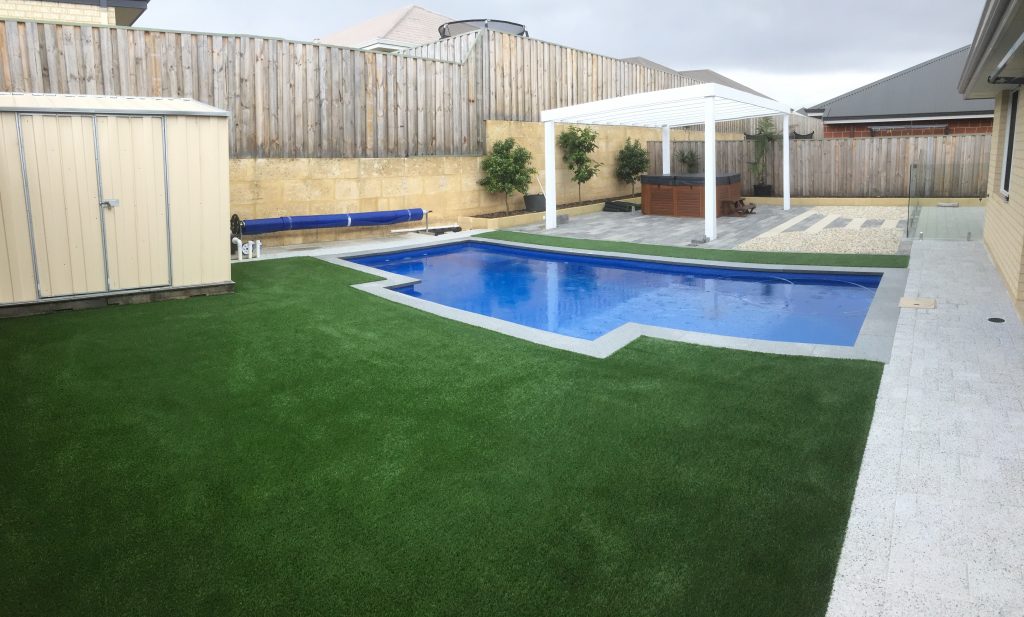 For the sake of this exercise, let's assume we are talking about medium to the high-grade synthetic turf, which is by far the most popular selection when presented with all your options.
if you think about it, you are investing in a synthetic product, that being fake grass, so it makes sense to get the best-looking grass out there which resembles the real thing. Otherwise, you might as well just save your money and go ahead and paint your dead lawn green and call it a day. There is a BIG difference between low to high-end turf…I mean.a BIG difference! The last thing you want is to go from an ugly dead lawn to one that screams FAKE, or to a lawn that blinds your neighbors as they walk by your house due to your poor quality selection — all just to save a few bucks)
Artificial grass has been manufacture all around Australia, China, Netherlands, Germany.great company partners with other companies share the similar ethics.
Synthetic Grass quality in Perth
One of the main factors is how the synthetic turf is made and what type of material has been used to make artificial grass. All our synthetic turf made from first-class pe (Polyethylene) material and pp (polypropylene) Each yarn have its own characteristics. Polyethylene has become the most commonly used for its greatest versatility and excellent balance between durability, aesthetics, and softness. Polypropylene yarn is typically used for sand-filled putting greens and as a thatch layer on landscape grasses. Nylon is also used as a thatch layer as well as nylon putting green turf. We use triple layer baking system 2, layers of pp and German latex and polyurethane where required mostly on football fields.
Typically, the medium to high-grade synthetic lawns in Perth WA run anywhere from $16 to 29$ m2 plus GST, all depending on which manufacturer and style you choose.
 Artificial Grass Installation Process
 We use 17 steps to install our artificial lawn please click the link below if you like to read our full detailed post.
 Business Expenses and overhead
Being largest, not necessarily mean they have the best product infect Such business has a shop front, large advertising budget, not to mention sails people commission has to consider in the cost into the price of artificial grass. Witch consumer has to pay.
On the other hand, we have managed to achieve cut as many overhead costs and rather develop our product and manufacture the best quality in Perth without hefty prices tag. And we have managed to achieve just that. But don't take our word for it click here for live reviews views from our customers.
Artificial grass price and cost of supply and installation in Perth WA
Artificial grass installation in Perth is typical start from 48 $ to 110$ in the year 2021 supply and install pm2
At WA turf gurus our synthetic grass supply and install range (Area over 30 m2) from 55 $ to 62* per meter 2 depending on what Artificial grass product has been installed.
We have been able to hold the price down to affordable and keep our overhead low so we can offer our customers best low price and provide the best quality in Perth guaranty.
In quoting we always 3 or cheapest as we kept our overhead low so we can provide the best value for our customers. most of it all we take great pride within company what we do and we will continue to provide Great service to our clients to help them achieve better Goals.

tags
Artificial Grass Cost-Perth Prices of Synthetic Turf Installation.Artificial grass wholesale Perth, Fake grass installation cost Perth, Artificial grass Wangara. Synthetic grass Wanneroo, Fake grass Joondalup.