Artificial grass around Swimming Pool
More and more artificial grass Getting installed around the Swimming pool area. Whole reason being its versatility robust and smart design. Having said that the colours blue and green are the perfect combination bring out the beauty in any surrounding pool area.The earthy colour it is neutrally appealing to the eye and create an instant wow factor.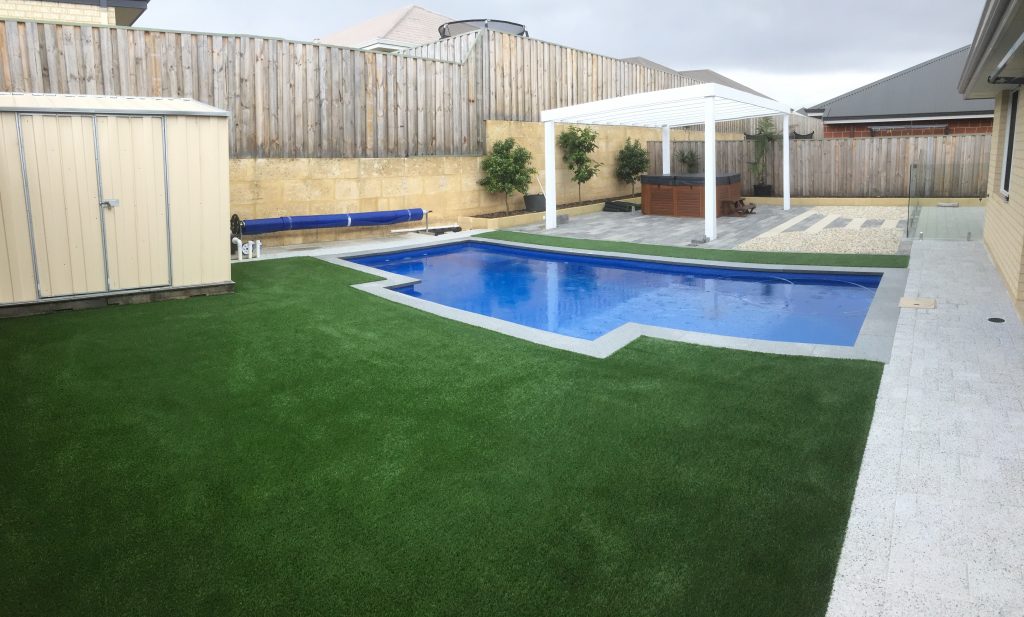 After installing hundreds of projects In Perth, Wangarra, Malaga, Speaking to homeowners we get to experience how many people are converting to the artificial grass around the swimming pool area instead if old fashion Paving. The simple fact that it is low maintains, virtually no watering cost, soft and smooth to walk on.
Spending time around the Swimming pool with friends and family is one of the many joys of living in great Western Australian outdoors. Because of this, homeowners often pay particular attention to the details when designing this outdoor living area. For folks who want to have grass around their pools, one of these considerations is whether they should install artificial grass.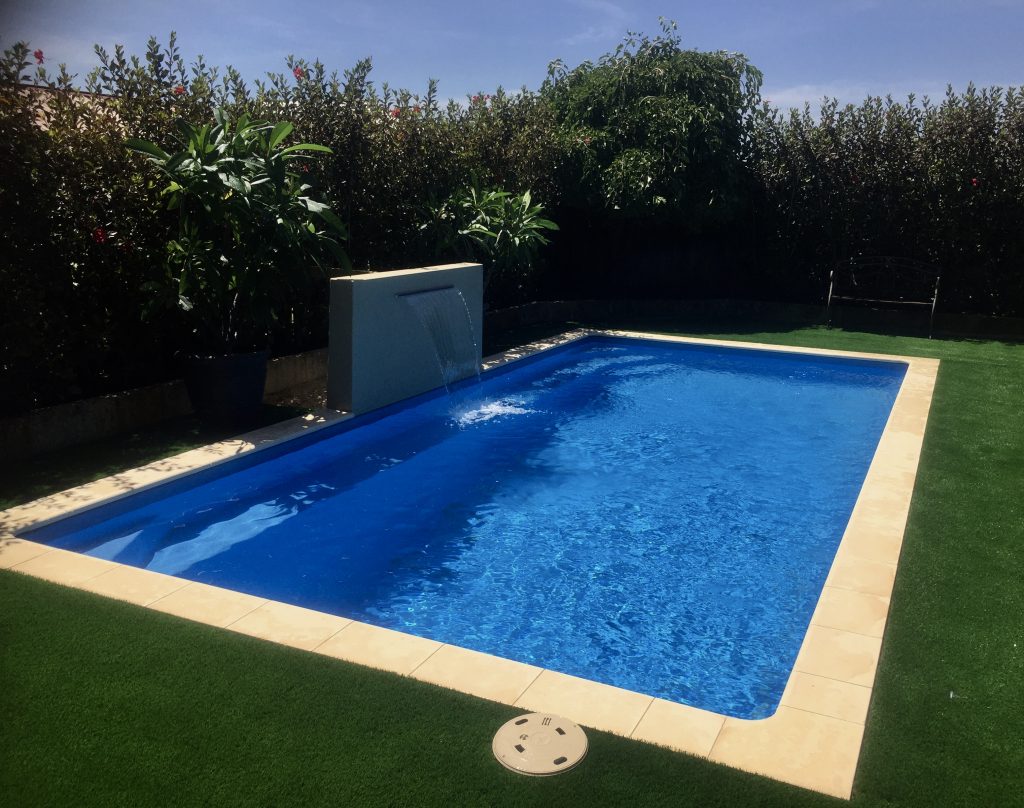 There are many advantages installing synthetic grass around pool area
The synthetic Grass does not require watering.
Been a synthetic based Product Artificial grass does not require watering.Which allows for the maximum water saving. Still, enable you to have a lush green lawn in hot dry weather condition.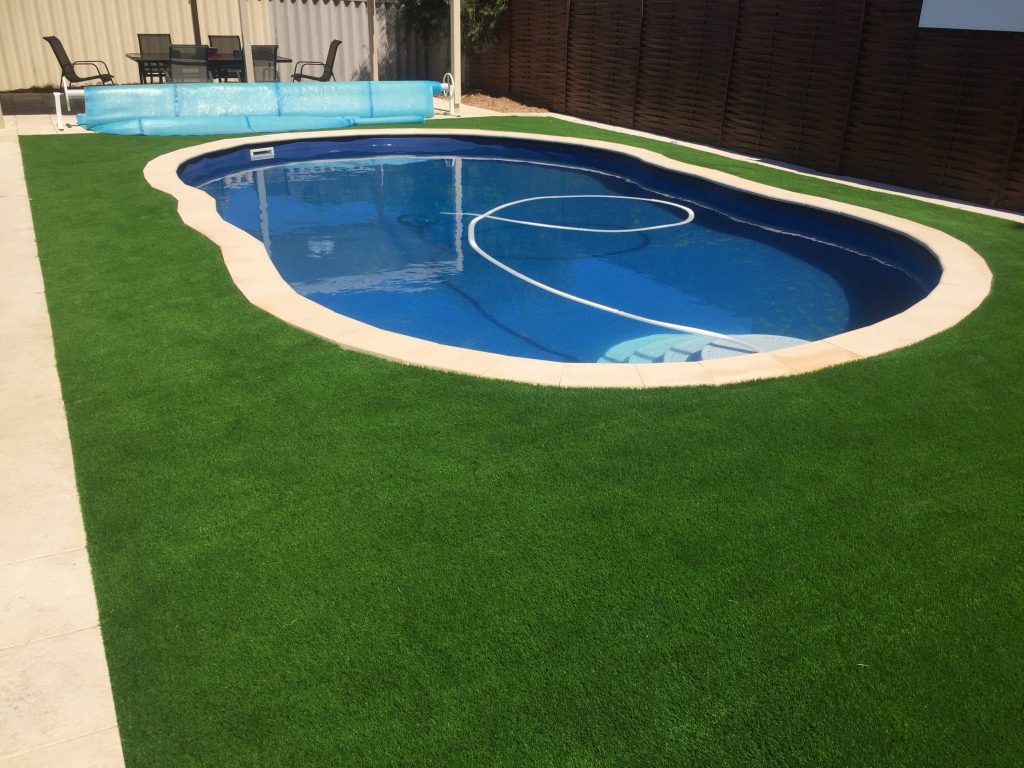 Pool water contamination by fertiliser & pesticide
Ant-like original lawn it does not require any strong fertiliser & pesticide.by installing artificial grass you will prevent strong fertilisers and pesticides.Fertiliser can contaminate the Swimming pool water it can Create a great risk to family health.
You can also expect splashing, diving, playing, and climbing in and out of the pool to introduce a lot of water to the ground around your pool. Too much chlorine water is not good for Real grass or most plants, but an artificial turf lawn can handle excessive water just fine. Artificial grass equipped with triple backing and high flow drainage system design to cope with this condition.
High traffic area
Artificial grass construction is design to cope with high traffic area ant like real grass can wear out quickly in the summer month and create a muddy patch this can be an unsightly and messy business.
Less skimming and cleaning of the Swimming pool area
By high usage of the area real grass blabs can be easily broken and end up in the pool this means there is more skimming and cleaning the pool rather than enjoin swimming in your pool.Not to mention it can cause clogging of your pool filter as well.As we all know this can be a little expensive exercise.

Water Saving
Artificial grass or not your swimming pool is already using a lot of water. With Western Australia in an almost constant state of drought, we need to be mindful of ways we can conserve water. This does not mean that you have to give up your swimming pool. By installing "artificial grass Around pool" you will eliminate the excessive water usage.

There is few question come to mind when thinking of installation fake grass around the Swimming pool area.
1.   Does artificial grass get hot  – Yes it can like any other surface out there under the harsh sun. It can be prevented by installing shied sails.by spraying a small amount of water bring down the temperature instantly.
2.   I don't want my artificial grass to look fake-all our synthetic turf design for harsh Western Australian weather also its state of the art engineering it does not have a shine being high density makes our lawn best value in Perth.
3.   Is artificial grass safe for pets and children– Absolutely all our synthetic turf manufacture under strict guideline of health and safety and tested by independent laboratory's so you can rest inshore you family and pets are safe "This is 2018 Wright"
4.   Will my pets damage synthetic Lawn– All our Synthetic grass range is specially designed for pets. Triple backing system Provide strong construction.
5.   Will Artificial grass smell like pet urine– Artificial grass is virtually maintained free but it still needs Attentions when animals urinating. The easy solution is urine free refer to our periodical Synthetic Grass cleaning plane!
If you need more information About out synthetic grass Or installation Process please refer to some of the links below.or if you need information about any of our product Please call our hotline on 0426046485 you will be talking to trade, We are here help make your Artificial grass installation simple and Easy Process around the pool Area.
Call for Free Quote now 0426046485