Synthetic Grass installation Perth
Wa Turf Gurus {Pro Guide}
Wa Turf Gurus is the Fastest Growing Synthetic grass Perth  Company in WA; changing a lot of people's mind about the contractors and transforming them into Extremely Happy Customers.
Our rapid growth in Synthetic Grass Perth is largely attributed to our Lean Methodology. We deconstructed the entire synthetic turf industry piece by piece and found many opportunities to make the system better; a lot better.
We are changing the way you shop for your Perth Artificial Grass Installation Company. You now have a choice in who you would like to install your artificial turf project. We supply you with the tools to make an educated decision on your investment. The majority of the installation companies buy their products from the same manufacturers and hire subcontractors to install the project.
Bingo, WA turf gurus teamed up with and hired the best crews in trade with over 18 years of experience, eliminated the unnecessary overhead by implementing extremely efficient methods with every process so that we can pass the savings onto you. The result is unbeatable Quality, Service and Value which amount to our most important goal; Extremely Happy Customers, paying it forward to you each & every day. Call or email us today 0426046485!
Here are a few Popular Articles to Read: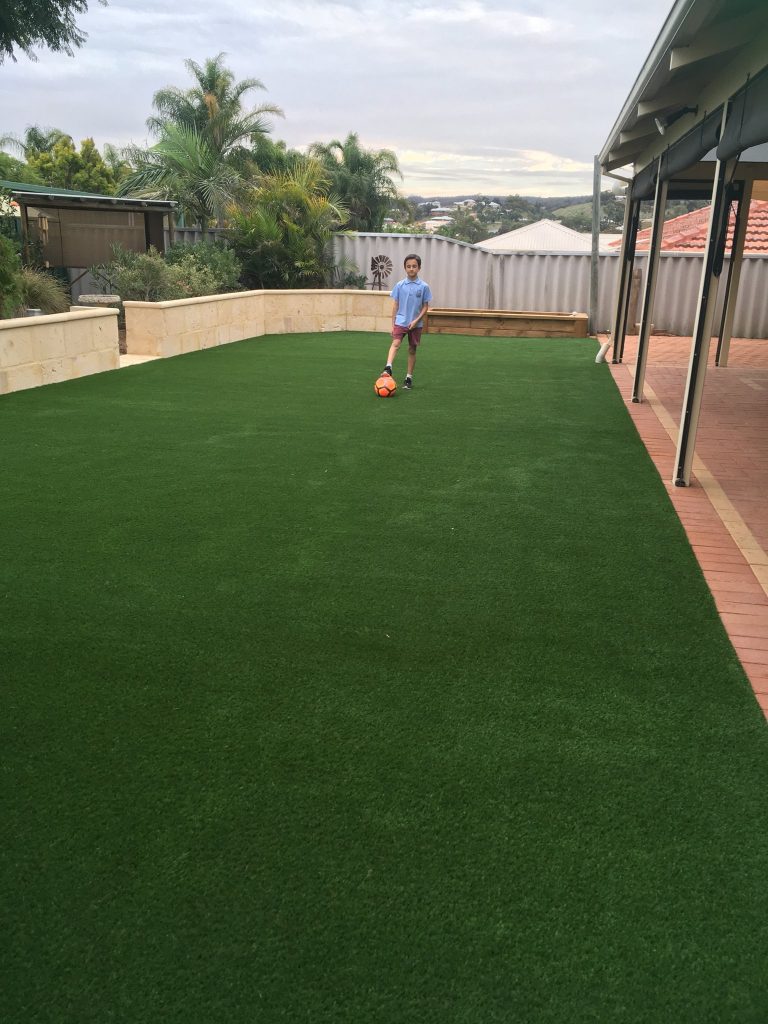 Are you sick of watering your grass and all the maintenance involved in keeping up your lawn? If so, artificial grass Perth may be a great choice for you In Perh Wa.
Not only will you be able to eliminate mowing your lawn, you won't have to water, and your synthetic grass will look green and lush year around.
If you have a large grassy lawn in the front of your house which is eating at your monthly water bill, synthetic turf will drastically reduce your monthly bill and instantly add curb appeal while transforming the aesthetic of your house.
Maybe you happen to go out of town on business trips, go on a lot of Holidays, or rent your property out, then synthetic turf in Perth is a fantastic choice. Now you will not have to worry about over or under watering while you are out of town and you surely do not have to worry about your rentals properly attending to your grass.
Interested in learning more about synthetic turf and how it can benefit you today? If so, please visit our blog to learn a lot more.
Here are a few Popular Articles to Read for artificial grass Installation in Perth:
1. SYNTHETIC LAWN DESIGN AND PLANNING
One of our Professional Design Consultants will assist you with your design and plan in an effort to come up with a clear picture as to your overall vision and goals for this project. The design and diagram will determine the scope of the project. During this process, we will also be looking to create as few seams as possible, which will provide for a much more real looking lawn upon completion.
At this point, we will be able to provide you with an accurate estimate in regards to your investment. We can continue to alter the scope until we meet your project needs. Once the design is finalised we will use the diagram to figure out the appropriate quantities of material to order.
2. PREP BEFORE-DEMOLITION
Before the demolition can commence, all utilities (electrical, gas, water, etc.) including all sprinklers must be properly located to eliminate unnecessary problems. Depending on the customer's preference, the sprinkler system can be capped for use at a later point in time, or we can completely remove it altogether. Any additions or changes to the existing utilities must be accounted for at this time.
3. DEMOLITION
A bobcat (where applicable) will be used to demolish your existing soft-scape and/or hardscape surface. In areas where the bobcat cannot access, or if a bobcat is not necessary, other demolition tools be used to remove the hardscape and/or soft-scape. Saw-cutting may be necessary along areas where the foundation is protruding into the usable space in the front, back or side yard areas.
4. EXCAVATION
We will excavate 100 to 120 mm from the final grade.
5. GRADING & DRAINAGE
At this point, if drains need to be installed, this is the time to do so as well as account for proper water-flow away from your house.
6. INSTALL BORDER (link edging) (OPTIONAL)
For aesthetics and structural integrity of the perimeter, we will install garden edging .mow-strip around the outside of your project, where-ever we are a butting up against soft-scape surfaces.
7. SUB-BASE COMPACTING
We will use a plate compactor to compact the sub-base. This is crucial as we do not want to have any air gaps in our system. If you skip this step, it will lead to undulations or depressions later on.
8. WEED KILLER
Spray the entire area rather generously with weed killer to reduce the chances of weeds appearing in the future.
9. BASE PREPARATION & COMPACTION
We will prepare 60mm of Road Base which will be dispersed throughout the entire footprint of your turf project. Once the base has been set, we will hose the base down, and compact it until we reach a compaction level of 95%. At this point if the bob-cat drives over the prepared base, you will not see any tires mark, as it is literally hard as a rock, which is exactly what you want.

11. TURF PREPARATION (MEASURE, CUT & ROLL)
Make sure to roll the turf completely out and allow it to sit in the sun during the initial preparation process. Since the turf has been rolled up like carpet, we will want to make sure to eliminate any wrinkles and bunching. If you skip this step, you may see air-pockets in your turf later down the line as the artificial grass has a chance to completely settle.
With proper planning, proceed to position the turf for installation. The goal is to have as few seams as possible and with proper planning, this can be achieved every time. Once the fake grass is positioned properly, remove the excess turf that will not be needed, which will make it much easier to work with.
12. JOINING & TRIMMING
Once the artificial turf has been perfectly laid out and all the excess material has been trimmed, we are now ready to seam the pieces together. It is important to make sure that all the rolls of grass are laid in the same direction so that the blades all point the same way.
There are several seaming techniques, and the actual technique used on a particular job can vary from job to job depending on the circumstance. The various techniques include utilising seaming tape in conjunction with adhesives(glue) to sewing to the most popular residential application being tacks and nails.
Once the seams have been completed, the final trimming can take place along all the seams and edges of the grass.

13. BORDER PREPARATION
To properly secure the border it is a good idea to nail down the perimeter with nails. Use 80mm upins use them every 1-2 feet around the perimeter of your project.
14. INFILL PREPARATION
To get the turf ready for the infill installation, you will want to use a power broom and sweep the turf in the opposite direction that the blades are pointing. This will prop the blades upright and allow for the infill to properly penetrate the grass to the base of the turf.
15. INFILL INSTALLATION
Use a standard seed drop spreader to install the infill. The infill is used to help weigh down the turf, assist with blade recovery, soften the feel under your feet, and depending on the actual infill you use, there may be other benefits (i.e. antimicrobial, prevents degradation, reduced heat consumption/overheating). You will need to determine the amount of infill to use in advance because you will want to leave 30 mm of the blade of grass exposed. The amount of infill to install will depend on the specific synthetic lawn you choose. The metric will be pounds per sqft, in terms of how many pounds of infill you will need per meters of artificial grass.
16. FINAL TRIMMING & CLEAN-UP
Walk the project to see if there are any blades of grass that are out of place. If everything looks perfect, then hose down your new lawn which will complete the infill install and now your artificial turf installation is complete and ready for use.
17. FINAL INSPECTION
The last and final step is an inspection. yes,we do have inspectors will make sure the whole project is finishing up to high standards!
I think I am ready for a free estimate, what do I do now? Just click here and fill out our quick form or give us a call 0426046485(we are very friendly, we promise we won't bite)
Have more questions….give us a call or shoot us an email with your question
Call Us: 0426046485
Email Us: info@waturfgurus.com.au